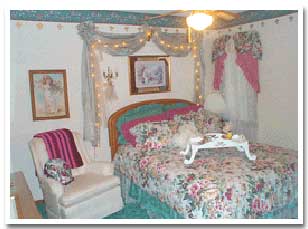 TaMarcha - $65
Contemporary and romantic with taupe decor and honeyoak queen bed, with TV.
Taylen - $65
Sleek, modern with taupe and pale blue queen bed, massive wood furniture, TV.
Tiffany - $65
Creams, floral and heavenly, with angels surrounding the lace and cream canopy queen bed.
Taylor Suite - $119
Elegant, gold and red with dark wood antiques, candlelit fireplace, TV, private bath with whirlpool tub, and a view of the lake.
Confirmation of room secured upon receipt of $30, deposit of cash, personal check, or money order. No Credit Cards Accepted.
Special Event Weekends:
Extra charge and a deposit of one night required. Nonrefundable if less than 4 weeks notice.
Children under 12 stay FREE. $10 for extra person
WEEKLY RATES ARE ALSO AVAILABLE, ASK FOR WINTER
GET-AWAY SPECIAL RATES AND BUY ONE, GET ONE FREE PACKAGES
Arrival and Departure
Check-In: At 2:00-6:00 (flexible, give approximate time)

Check-Out: At 11:00-12:00/flexible
Trinessa - $79
Traditional in blue and gold with a double and a queen size four poster bed.